We all know that shoes have the power to make or break an outfit. It is really essential to invest in the right pair of shoes. And we've found that white sneakers are the safest bet. They are a great way to bring an air of elegance to any outfit. And did we mention the comfort factor sneakers bring in!
We've explored a lot of shoes and here are our top five favourites. They offer unparalleled comfort and add a whole lot of pizzazz.
1. Puma Basket Heart Patent Women's Sneakers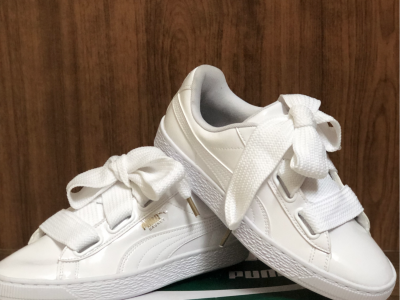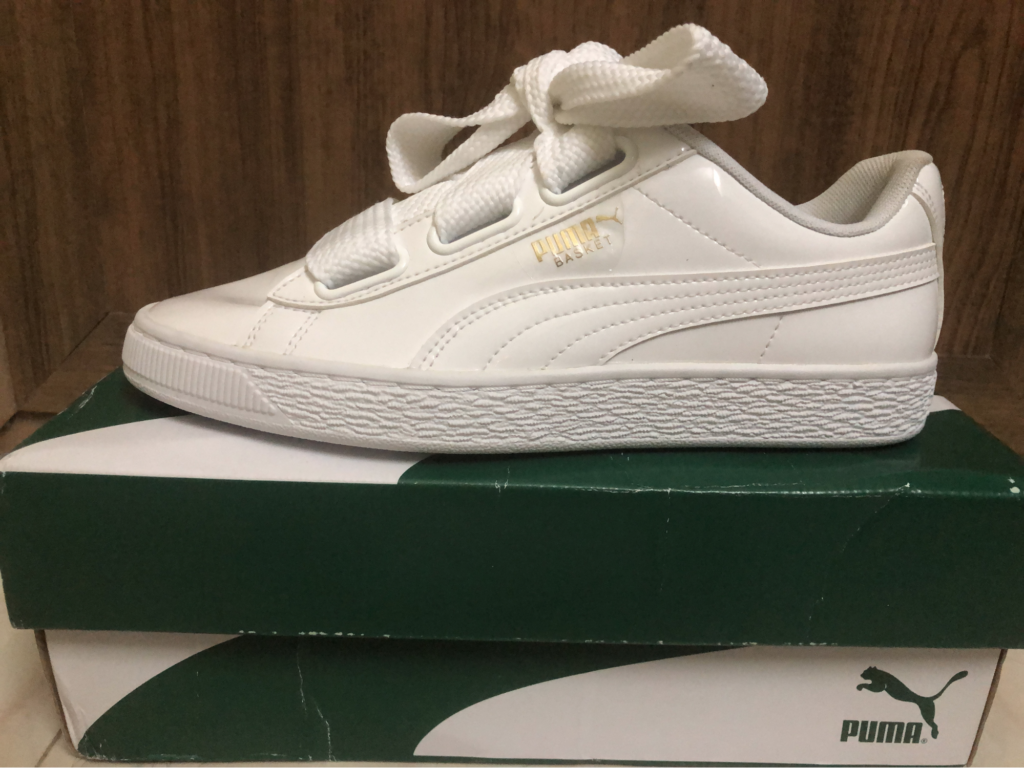 This is one of Puma's Futuro (Future Retro) designs – where they've chosen their retro shoes and redesigned them for the future.
We are in awe just looking at the sneakers – they are oh so cute to look at! The sneakers come with a cushioned, fixed insole and a glossy leather upper. They also have a padded collar lining and tongue for superior comfort. It comes with a rubber outsole and has a remarkably good grip.
The highlight is that the shoes come with two sets of laces. One pair is of shiny satin that when used transforms these sneakers into the perfect pair of shoes for dresses and skirts. Make that perfect bow and people are bound to look at your shoes and grind their teeth in envy. Pretty over the top! 
The other pair of laces is the regular knitted lace – just wider and for everyday use.
Another feature that deserves a mention is that the tongue of the shoe is bound to the insole with a wide elastic band. It gives you such a snug feeling when you slip into these shoes. This pair of low cut shoes is not too heavy and extremely comfortable. 
There are only a couple of downs – the shoes are a little squeaky & they tend to crease at the toe region. This is a problem encountered with leather outers. While it doesn't crease at light use – it does crease with a little heavy usage. 
Our Final Verdict:
These satin lace shoes are one of a kind. An absolute must try!
2. Converse Chuck Taylor All Star High Top Canvas Sneakers
One look at these optical white high top sneakers and the word that comes to mind is timeless. These sneakers are going to stay in style for a long time. With a fabric upper that is flexible and durable – these shoes offer superior comfort. They come with a fixed cushioned insole and rubber outsole with an amazing grip. It has the classic Chuck Taylor All Star badge at the ankle. It also has median eyelets for enhancing the airflow.
Because of the fabric outer – these shoes are lightweight, durable and extremely comfortable. The sneakers have an 8 eyelet lace-up front that has an ankle high coverage. 
These classic white high tops are functional yet stylish. They look just as good with skirts as they do with your regular denim. It does add an endearing tomboyish look to your outfit – but hey that's only an added plus. 
Our Final Verdict:
If you're picking just one pair of white sneakers – you can blindly go for this one! 
3. Adidas Womes's Originals Superstar Low Shoes
White sneakers come with their own unique oomph factor. These Adidas low shoes have an instant aesthetic appeal. The shoe has a removable cushioned insole and a solid rubber toe region. It also has three printed stripes in a bright contrasting colour (mine being silver) that add to the visual appeal. 
The shoe is cushioned all around. It also has a rubber outsole and a herringbone tread pattern – for superior traction. This combination makes for a durable pair of sneakers that are up for all forms of outdoor activity. Because of the heavy cushioning the sneakers are slightly on the bulkier side. The weight does not in any way detract from the comfort. Plus the white with silver makes it a perfect match for almost all outfits. Wear these cool white sneakers and step out in style!
It's a little heavy on the pockets but it'll sure last long enough to be worth it.
Our Final Verdict:
Cute sneakers cum durable shoes – Go for the Adidas Women's Originals Superstar shoes. 
4. Nike Women White Court Royale Sneakers
These white sneakers have a retro look to them. They come in a creamy white tone with an oversized logo on the sides in silver-grey. The insole is fixed and the shoe is cushioned all around. And owing to the cushioning you can start using them right away – you don't have to wear into these shoes. They give you the comfort of familiar shoes right from day one.
The major plus of this pair of sneakers is that – despite the all round cushioning the shoe is extremely light weight. It comes with a rubber outsole which has a herringbone pattern for superior traction. This makes it an excellent choice for all outdoor activities as the grip is remarkably firm. It comes with a leather and synthetic outer that promises durability.
The shoes are functional and multi-faceted. They are comfortable and these cute tennis shoes will also pair well with all outfits and will fetch you loads of compliments
Our Final Verdict:
If comfort is your primary target – Nike Women White Court Royale Sneakers are the ones for you.
5. Skechers - Street Goldie Collegiate Cruizers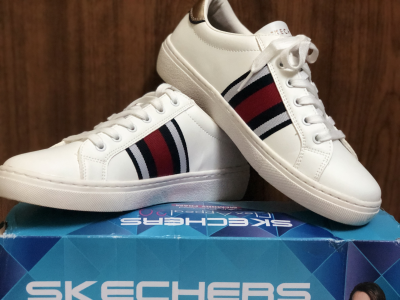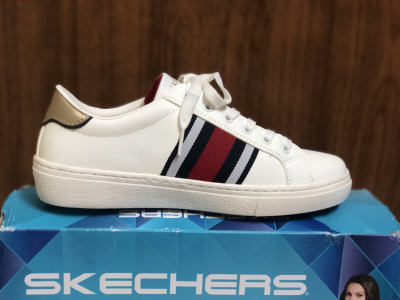 These white Skechers shoes come with a matte textured synthetic outer and a fixed 'air cooled memory foam' insole.
Memory foam is a dense material that is essentially made of polyurethane. This material is temperature sensitive and it allows the material to shape itself to the unique contours of each person's foot. This makes it super comfortable for running. But memory foam shoes tend to retain heat and require frequent airing out after use.
These shoes have a flexible rubber outsole and the grip is really good. The tongue and collar is lightly padded and hence the shoe doesn't bite. Like all other Skecher shoes the highlight is the weight – or rather the lack of it. For any padded shoe – there is always some added weight. But these shoes are just so light – they seem weightless. That's some fantastic work. It has a three color fabric panel on the sides that adds some fun to the otherwise plain shoe. This 6 metal eyelet shoe is extremely comfortable and would work perfectly for heavy outdoor activity.
These sneakers are a perfect blend of comfort and laid back style. They pair up with most outfits and add effortless elegance. Easy on the pocket and much easier on the feet. What's not to love ?
Our Final Verdict:
You have got to make room for these light-weight and classy sneakers!
6. Lee Cooper Women's White with Pink Sneakers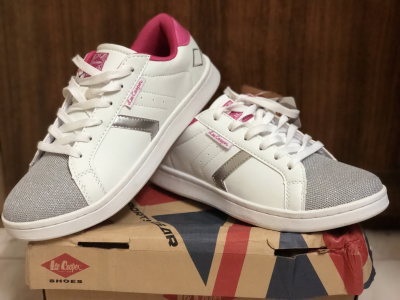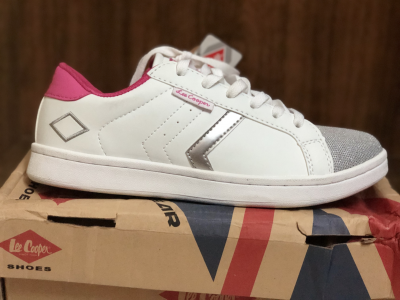 These sneakers come with a fixed cushioned insole and a solid rubber outsole which offers a great grip. It also has a cushioned tongue and back collar lining which removes any chances of having shoe-bites. It has a synthetic upper with a shiny silver-grey toe region. It also has a shiny silver-grey stripe on the side panel. The ankle region also has a shiny pink patch which brings in a bright spark of colour to the shoes. 
Shiny silver and pastel pink – if these two don't make you like these feminine shoes – we don't know what will. The shoes are very pocket friendly. The shoes aren't very heavy. This pair has a 6 eyelet lace-up front that is very comfortable. The eyelets do not have any metal ring like other sneakers – so be wary of the way you handle your laces. The shoe also tends to retain heat after continued usage and will require frequent airing out. 
The glittering toe region does draw attention to your shoes and it adds a delicate feminine touch to the outfit. 
For the price it comes at;  these shoes are a real steal!
Our Final Verdict:
Looking for quality sneakers but on a budget – these shoes were made for you.