A watch has transcended from being a utility to a fashion statement. A watch lends elegance and charm to the wearer. That's why a watch is considered a good gift and a worthwhile investment even today – long after mobile phones have started telling the time. A watch will always be in style – today, tomorrow and forever!
It's best to determine your skin's undertone before picking a metallic strapped watch. To find your undertone – look at the color of your veins in the sunlight.
If your veins are on the greener side – it means you have warm skin undertone. Warm undertones are flattered by golden hues. So you should consider picking gold or rose gold straps.
If your veins are on the blue or purple side – it means you have cool undertones. Silver, grey or black metallic straps will look better on your wrist.
If you have a mix of both green and blue – congratulations – you have neutral skin undertone. It means you can carry off both silver and gold with equal panache.
There are so many watches available today and we are spoiled for choice. We have explored a plethora of watches and narrowed it down to the best 5 watches.
1. Fossil Analog Rose Gold Dial Women's Watch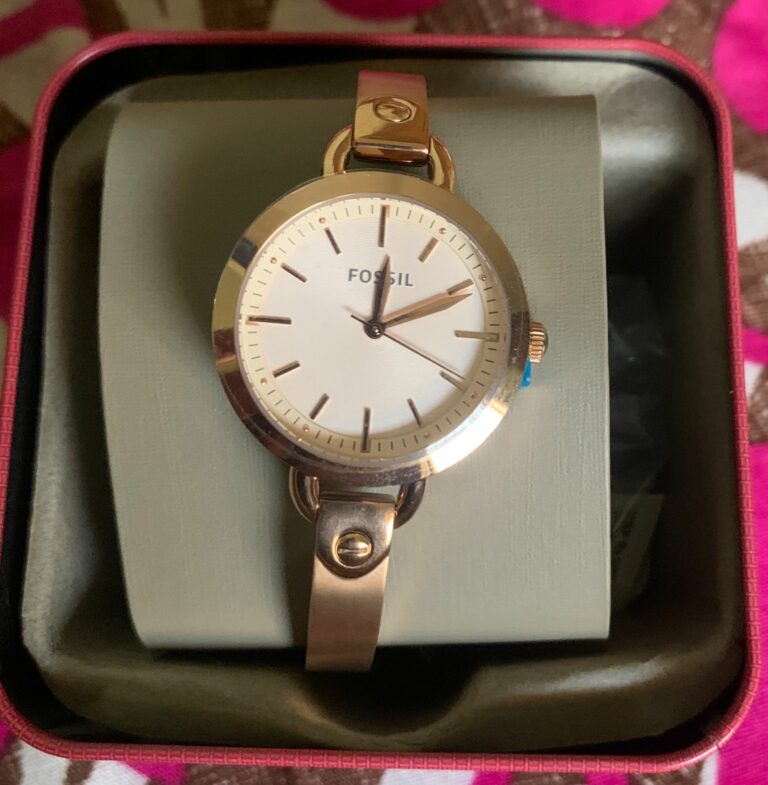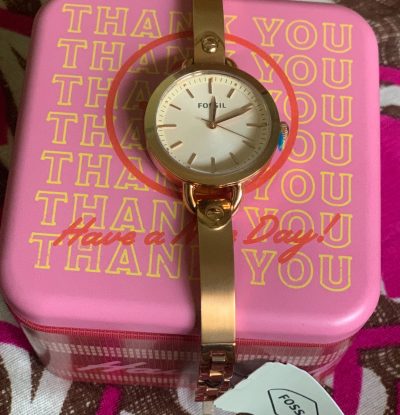 There's something delicate and absolutely beautiful about the color rose-gold. As rightly said, 'Rose gold for the romantics'.
Fossil is a powerful brand on its own. With this unique round dial, rose gold metal strap watch – the brand power goes up a notch higher. This watch radiates class and elegance all the way. It can add style to any outfit.
It comes with a 2 year warranty and 5 ATM (50 meters)water resistance. This means that it can withstand rain, a swim and probably a shower without any damage to the machine. The dial is 32mm wide and the strap is made of stainless steel. It is slightly on the pricey side but it has been designed to last. The simple rose-gold strap and light rose-gold dial are timeless and will remain in style for years.
It's just as good for an important business meeting as it is for an informal occasion. You could pair it with an evening suit or with a fancy kurta and pull it off with equal ease.
A special mention to the neat packaging the watch comes in – it comes in a small carton which contains a cute pink Fossil watch case. Don't forget to register with Fossil to help out with warranty claims if needed. This watch is indeed "Neighbour's envy and owner's pride."
Our Final Verdict:
If you're looking for something elegant and long-term – go for this!
2. Titan - Pink Dial Silver Stainless Steel Strap Watch
"A thing of beauty is a joy forever". This is the first thought that crosses the mind when you look at this oh-so-adorable pink dial, silver stainless steel strapped watch. It comes with three subdials for date, month and day of the week. The case is 35mm in diameter. The lock mechanism is a push-button clasp. The watch comes with a 24 month manufacturer warranty on movement and 12 month warranty on battery. It also has a 5ATM water resistance factor.
The dial and the strap tend to flatter thicker wrists more than petite/delicate wrists. It is one of those unique designs that can be paired with casual and formal outfits and not look out of place. Despite the large dial – the watch is so subtly designed and the colors are so well paired that it oozes style and sophistication.
Our Final Verdict:
If you can pull off silver jewelry – blindly go for it! A must buy!
3. MI Smart Band - Fitness Band
If you feel it is insufficient that a watch just tells the time ; if you feel a watch should do much more – then look no further! The Mi Smart Band 5 can do so much more. It comes with a heart rate monitor, activity tracker, music control and so much more!
The Smart Band comes with a wrist band, a dismantlable fitness tracker, a USB charging unit and an instruction manual.
The wristband is thermoplastic polyurethane and comes in a matte black color. The fitness tracker can be inserted and removed easily from the wrist band. The tracker comes with an AMOLED display. AMOLED is said to have brighter and sharper colors than your regular LCD or LED displays. The device needs to be charged for around 1.5 hours and lasts for about a week with regular usage. It has a 5ATM water resistance factor which means you can wear it for a swim.
You need to install the Mi Fit app on your smartphone and pair it with your watch before using. This smart band comes with a whole load of cool features – like alarms, incoming calls, message, calendar and other-app notifications, stopwatch and timers. It's a sporty person's delight!
The only down-side is that it is not very aesthetically appealing. But the super-cool functionality more than makes up for it!
Our Final Verdict:
Best value for money with a lot of features.
4. Fastrack Black Dial Stainless steel Strap Analog watch
This uber-chic, girls, steel strapped watch comes with a very unique dial shaped almost like a diamond with rounded edges. It fits into the easy-on-the-pocket category. The subtle narrow silver belt spells out sophisticated. The dial is 28mm wide and 41 mm long. It also comes with a 24-month warranty on the movement; a 12-month warranty on the battery and 3 ATM water resistance.
This sophisticated watch is a good match for all semi-formal and formal office wear. It comes with silver-lined indications at 6 and 12 and logo indications at 3 and 9. The lock mechanism is a jewelry clasp.
Have you ever gotten all dressed up and wondered how to complete your look without being too in-the-face. Wear this watch and see how perfection happens!
Go for this if you're looking to make a style statement at work!
Our Final Verdict:
Are you a fashionista looking to buy a statement watch ? This one is your best bet!
5. Sonata Blush It Up Analog White Dial
This elegant analog watch is easy on the pocket and high on the looks. With a subtle blue-green leather wrist belt and a classy rose-gold rimmed white analog dial this watch draws attention to the wrist. It has an easy buckle lock mechanism and a water resistance of 3 ATM. 3 ATM ideally means 30 meters water resistance but in reality it means you can wear it in light rain but not in the shower.
The case is 32mm in diameter and the case is made of brass. Because of the unique color combination it goes well with almost all attires. It is a good workplace watch. It's functional, neat and just the right amount of subtle! The watch comes with a 12 month warranty period. A worthwhile investment.
Our Final Verdict:
A pocket friendly, subtle and neat watch that can be paired with casual and workplace outfits.