Want to step out in style and not really into high heels. Stop worrying my friend – sneakers are the way to go now. They're totally in and you can match a pair of sneakers with any outfit – from a cute sundress to a crisp shirt and jeans – sneakers can take that style factor of your outfit a notch higher.
We've compiled the list of our top 5 favourites. We know that there is no – 'one shoe fits all' . That's why we've gone all in and our list comprises shoes from all categories – low cut lightweight to heavy duty sports shoes. We're sure there's one for everyone in this list. Put your fashion foot forward!
1. Converse All Star Canvas Sneakers (Black Low Cut)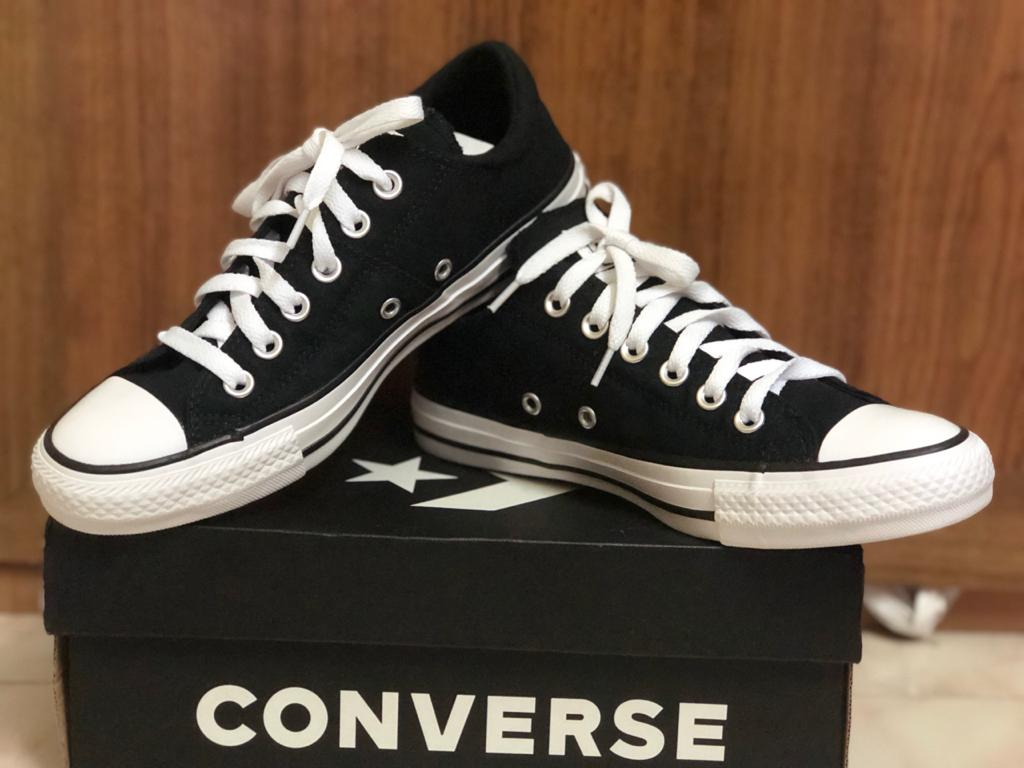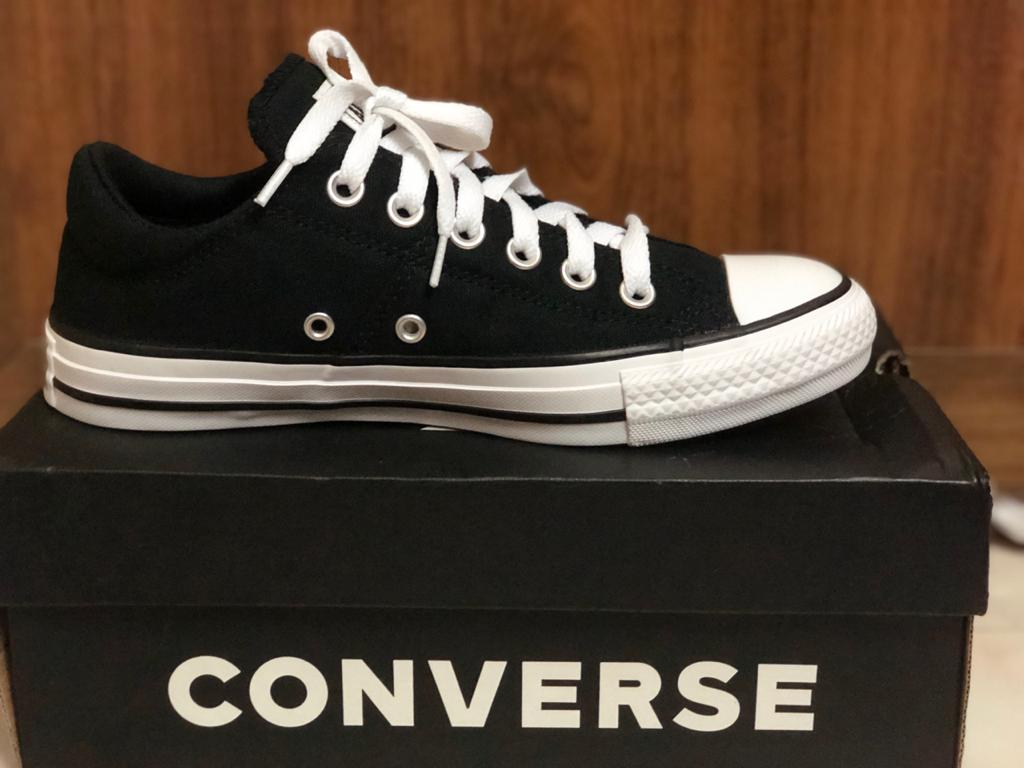 The converse shoes are a must have for everyone. The lace-up low cut sneakers are the epitome of comfort and durability. It comes with a cushioned insole and tongue. The upper and lining is  of durable fabric. It comes with a rubber outsole and 2 median eyelets to enhance the airflow. 
The shoe is lightweight and oozes style. This low cut 'All Star' pair of sneakers redefines comfort. You know that mild discomfort we all face when we break into a new pair of sneakers -well that just doesn't happen with these sneakers. It feels just as snug and comfortable as a well-used pair of shoes.
This 6 eyelet lace-up shoe is for anyone who wants comfort and style at the same time. For the durability it promises; this pair of sneakers is fairly priced.
The highlight is the versatility these shoes offer. You can pair it with almost anything. It works with skirts, capris and even full length jeans. If this isn't love at first sight – we don't know what is.
Our Final Verdict:
Looking for light-weight, comfortable, stylish everyday shoes – Converse All Star Sneakers is your best bet. 
2. Skechers Flex Appeal 2.0 Sports Shoes with Lace-Up Fastening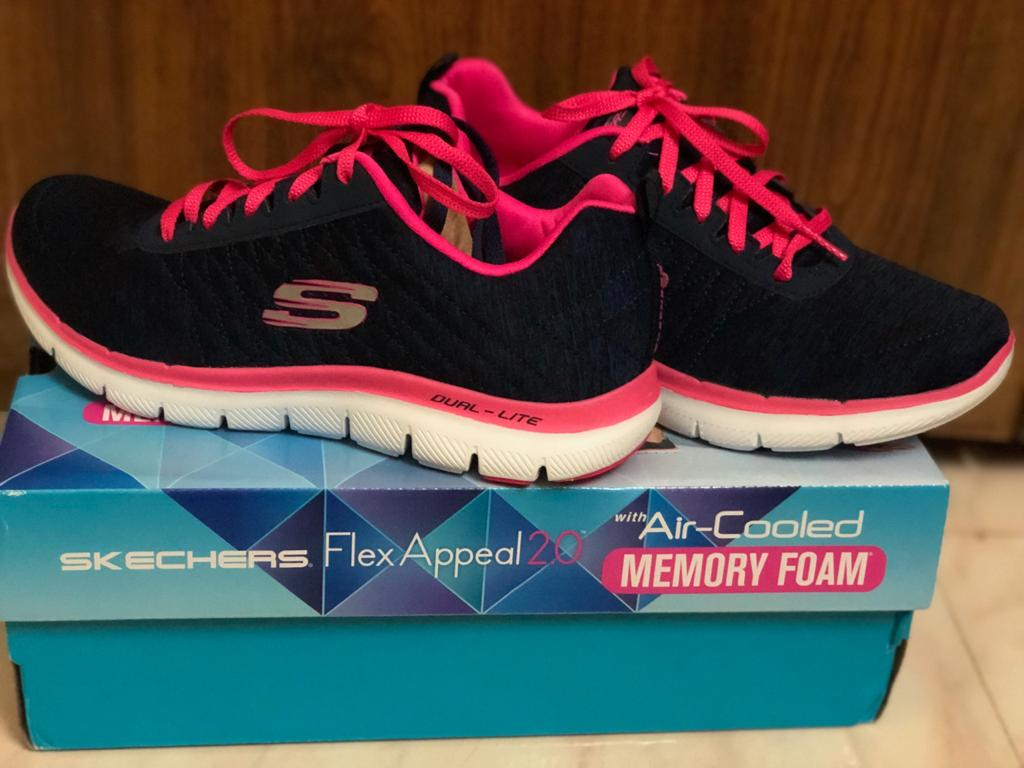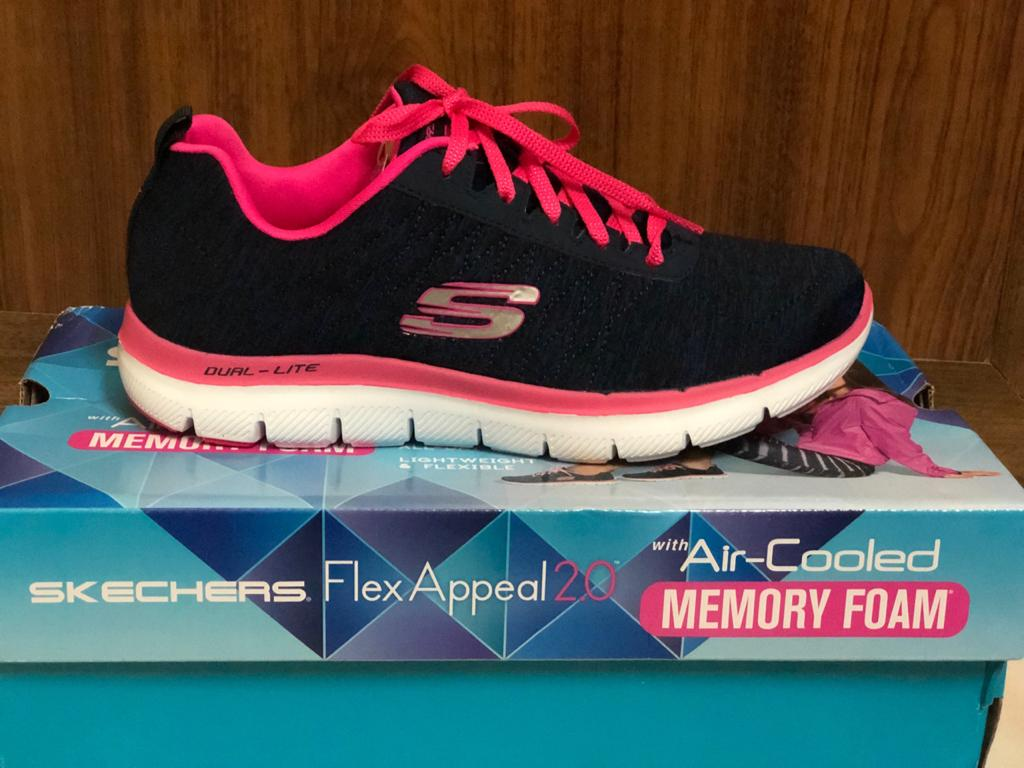 This shoe has a wonderfully cushioned footbed and a soft mesh fabric upper. This lace up sneaker has a memory foam insole and it is a delight to walk in. 
Memory foam is a dense material that is essentially made of polyurethane. This material is temperature sensitive and it allows the material to shape itself to the unique contours of each person's foot. This makes it super comfortable for running. But memory foam shoes tend to retain heat and require frequent airing out after use.
It looks a little on the sports-y, outdoorsy side. It appears a little bulky but it's surprisingly lightweight.
The entire shoe is lightly padded – so there is no possibility of it biting anywhere. It is the perfect pair of sneakers for outdoor activities. It also pairs well with denim and t-shirts lending a casual air to the outfit. The quality and make of the shoe clearly show that it's meant for heavy use and appears to be long lasting.
And here's one more thing:
These awesome sneakers come with two sets of coloured laces – fuchsia pink and navy blue. So go for the pink if you want to bring out the contrast and switch to the dark blue if you want to tone down the shoes. The idea of changing the tone of the shoe with the laces is absolutely brilliant. "Neighbour's envy, owner's pride" is just a perfect description for this fantastic pair of shoes.
Our Final Verdict:
Looking for a heavy duty sports shoe ? Go for the Skechers Flex Appeal 2.0 – no questions asked.
3. Adidas Womes's Originals Superstar Low Shoes
White sneakers come with their own unique oomph factor. These Adidas low shoes have an instant aesthetic appeal. The shoe has a removable cushioned insole and a solid rubber toe region. It also has three printed stripes in a bright contrasting colour (mine being silver) that add to the visual appeal. 
The shoe is cushioned all around. It also has a rubber outsole and a herringbone tread pattern – for superior traction. This combination makes for a durable pair of sneakers that are up for all forms of outdoor activity. Because of the heavy cushioning the sneakers are slightly on the bulkier side. The weight does not in any way detract from the comfort. Plus the white with silver makes it a perfect match for almost all outfits. Wear these cool white sneakers and step out in style!
It's a little heavy on the pockets but it'll sure last long enough to be worth it.
Our Final Verdict:
Cute sneakers cum durable shoes – Go for the Adidas Women's Originals Superstar shoes. 
4. Nike Women White Court Royale Sneakers
These white sneakers have a retro look to them. They come in a creamy white tone with an oversized logo on the sides in silver-grey. The insole is fixed and the shoe is cushioned all around. And owing to the cushioning you can start using them right away – you don't have to wear into these shoes. They give you the comfort of familiar shoes right from day one.
The major plus of this pair of sneakers is that – despite the all round cushioning the shoe is extremely light weight. It comes with a rubber outsole which has a herringbone pattern for superior traction. This makes it an excellent choice for all outdoor activities as the grip is remarkably firm. It comes with a leather and synthetic outer that promises durability.
The shoes are functional and multi-faceted. They are comfortable and these cute tennis shoes will also pair well with all outfits and will fetch you loads of compliments
Our Final Verdict:
If comfort is your primary target – Nike Women White Court Royale Sneakers are the ones for you.
5. Keds Women Blue CHAMPION STARLIGHT STUD Sneakers
The studded blue Keds denim shoes are the perfect way to add a feminine touch to your outfit. It has a "Dream Foam" footbed which makes the shoe really comfortable. 
Dream foam is a "Keds engineered", modified version of memory foam – it takes away the heat retention of the memory foam and makes it cool faster.
This mild ice-blue, denim 4 eyelet lace-up sneaker has a flexible, textured rubber outsole and  is a good item to team up with girly dresses. The shoe is lightweight and has multi coloured studs all along the top part of the shoe. The shoe has a denim upper and a breathable feel. It has a fixed insole.
The only drawback with the shoe is that its tongue and back collar lining isn't padded so it tends to bite when you wear it out for long walks. The grip of this shoe isn't all that great either. 
Our Final Verdict:
Go for it – if you have the patience to ease into the shoes. An absolute delight to look at.